Call us for your
Grand Bahama Island Attractions
South Florida is a great place to visit and even better to live, and one of the many things that makes it even greater is the proximity to many tropical and sub-tropical islands.
For more info call: 954-969-0069

Freeport Attractions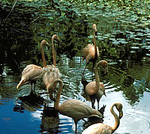 Freeport Harbour : A modern port bustling with trade cargo ships, cruise lines and tugboats. The world famous Pier One Restaurant with its nightly "shark feedings" is located at the Harbour's point.
Rand Nature Center : Near Freeport, is 100 acres of native plants, including 20 different varieties of orchids, graceful pink flamingos and replicas of Lucayan Indian Village life.

International Bazaar : Freeport's number one attraction designed by Hollywood stage designer Robert Perrin, this 10-acre mall displays the architecture of five continents and 25 countries and also includes local flavor with a straw market and perfume factory.

Lucaya Attractions: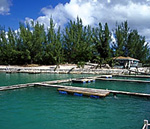 The Port Lucaya Marketplace : A waterfront shopping complex with an open outdoor atmosphere overlooking the marina offering live tropical music, junkanoo parades and limbo dancers in the open air of Count Basie Square, as well as 12 island-style buildings and over 80 shops.

Taino Beach : Just east along the coast from Xanadu Beach features a Fish Fry restaurant and local "conch" shacks.

Sanctuary Bay : Colorful guest houses line the inlet channel leading to Sanctuary Bay, home of the famous "Dolphin Experience", where visitors swim with dolphins.

Lucaya Area Resorts : Includes the Port Lucaya Resort & Marina, an established modern full-service location complete with all facilities of a world-class marina, and the Pelican Bay Resort located next to the Marketplace offering the romance of Caribbean life, a European design and Bahamian hospitality.

Lucaya Beach Area : Golden sand beaches stretching from Lucaya Reef Village Resort to Bell Channel.

The Garden of the Groves : Covering over 12 acres just a few miles east of Lucaya, perhaps the finest botanical garden in the Caribbean, with exotic vegetation and flowering plants from around the world. It is a perfect backdrop for filming with its many waterfalls, streams, ponds and its quaint little chapel.